Michael Scherperel studied composition and conducting at the Eastman School of Music where his principal instrument was organ. He later undertook graduate studies in piano, composition, and conducting at Boston University. He holds a B.A. in chemistry from Harvard and a M. Mus. in accompanying from the University of Miami.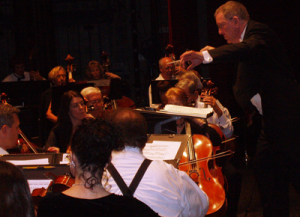 Mr. Scherperel has been at various times a vocal coach at the American Institute of Musical Studies (Graz, Austria), chorusmaster and assistant conductor with the Greater Miami Opera (now the Florida Grand Opera), music director of the Broward Symphony Orchestra, and artistic director of the Fort Lauderdale Symphony Chorus. Mr. Scherperel was a founding member of the Miami Chamber Trio and makes frequent appearances in chamber music and vocal concerts. He was a member of the adjunct music faculty at Broward College until his recent relocation to the greater Indianapolis area. He is now associated with the Indianapolis Opera and the Jordan College of the Arts at Butler University in addition to his private studio work.
Like many musicians, Mr. Scherperel had an exta-musical career as well. He was a manager in the Internal Information Systems division for Amadeus North America. He has also worked in biomedical research at Massachusetts General Hospital.
Michael's wife is the well-known organist and music educator, Loretta Scherperel. They have a daughter who is an analytical research chemist for the Agroscience Research Division of Dow Chemical.